Ask yourself; Is one of you pursuing a conversation while the other is withdrawing? Does one of you respond quickly while the other needs time to think? Do you feel like you are not heard or understood? Do you feel bullied or controlled?
Come get help and learn how to communicate more effectively. Get out of the cycle in which you are stuck. Learn more about you and your relationship.

Marriage and couples counseling for better relationships
I have been educated and trained to understand relational dynamics. I have learned from some of the best marriage experts in the world. I continue to seek and learn what is known about emotionally intimate relationships. I take this work seriously and want to pass along what I have learned.
Find more connection
With help from Sharon, you will learn valuable conflict resolution skills, improve communication, and learn to relate in a healthy way.
Complete couple's help
• Communication
• Conflict resolution
• Infidelity
• Sexual concerns
• Adjusting to changes
• Divorce recovery and remarriage
• Marital and pre-marital counseling
Presentation at a Retrouvaille weekend. Content can be found in Sharon's book, A Short Course in Marriage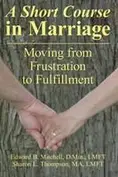 Need help, but not sure if you have time? Call for flexible scheduling. (317) 364-6078
I am a certified facilitator of the
SYMBIS
Assessment for Premarital Counseling.